MOOBAND
Regular price
$320.00
Sale price
$266.99
Unit price
per
Sale
Sold out
SPECIFICATIONS
Brand Name: ALTHY
Use: Pitcher
Origin: Mainland China
CN: Shanghai
Material: Titanium
Water treatment machine Type: Water Purifier
Certification: CE
Model Number: H2 life
Purifying Position: Other
Water Quality Requirements: High Quality Drinking Water
Function: Direct Drink
Type: Ionizer
Proton exchange membrane: USA Dupont membrane
Hydrogen content: MAX 5000ppb, depend on water quality
Electrode technology: SPE Double room with 7 layer platinum
ORP: -300 ~ -700mV , depend on water quality
Charging method: USB Rechargeable
Suitable for water quality: Pure water, mineral water, distilled water
Suitable for water temperature: 1-60℃
Capacity: 320ml
Power output: DC 5V
Product Size: 60*60* 225mm
●The Product Use: It is used to produce hydrogen-rich water for health and beauty. Hydrogen-rich water can effectively remove toxic free radicals, prevent cell oxidation, prevent diseases, improve human metabolism, delay senility and improve skin quality.
●Real Canada SPE(Solid Polymer Electrolyte)/PEM(Proton Exchange Membrane) technology with the multilayer Platinum Plating Electrode.
●USA Dupont NAFION - 117 Membrane, It puts only pure H2 into the water, Oxygen(O2), Ozone(O3) and Chlorine(CL2) are separated out.
● 100% safe to drink, Hydrogen purity reached 99.99%. Oxygen, chlorine and ozone are separated out, discharged from the bottom waste gas vent device.
●Hydrogen concentration: (Ideal state laboratory test)
3 minute mode(up to1700ppb): Touch twice quickly, see green indicator light
9-minute mode(up to 3700ppb): Touch three times quickly, and see the blue indicator light
2xtimes 9-minute mode electrolysis, concentration up to 5000ppb
●ORP up to 300mV ~ -700mV
● Works with All Potable Water Types--Mineral water, Purified water, Distilled water, RO water, Cold boiled water, Warm boiled water (water temperature below 60 degree) , Filtered water and purified tap water.
● Korean LG imported PC cup body, BPA free food grade material used for infant milk bottle.
●Two modes, Quickly produces hydrogen rich water within 3 minutes and can be drunk directly from bottle,Portable for travel, work and office.
●Simple hydrogen absorption device.
●Well-sealed for no water leakage.
● Certification: Japan Hydrogen Test Report ,Europe CE certification,US WEEE certification
● Maintenance:Clean with citric acid every 2 to 4 weeks. Easy maintenance !
Package Includes
1 * Hydrogen Water Generator
1 * USB Charging cable
1 * User Manual

Note: This bottle does NOT come with charger. The cable will plug into any USB port. Any cell phone charger will work.
Product shooting in kind
Every technology is certified
Detailed usage guide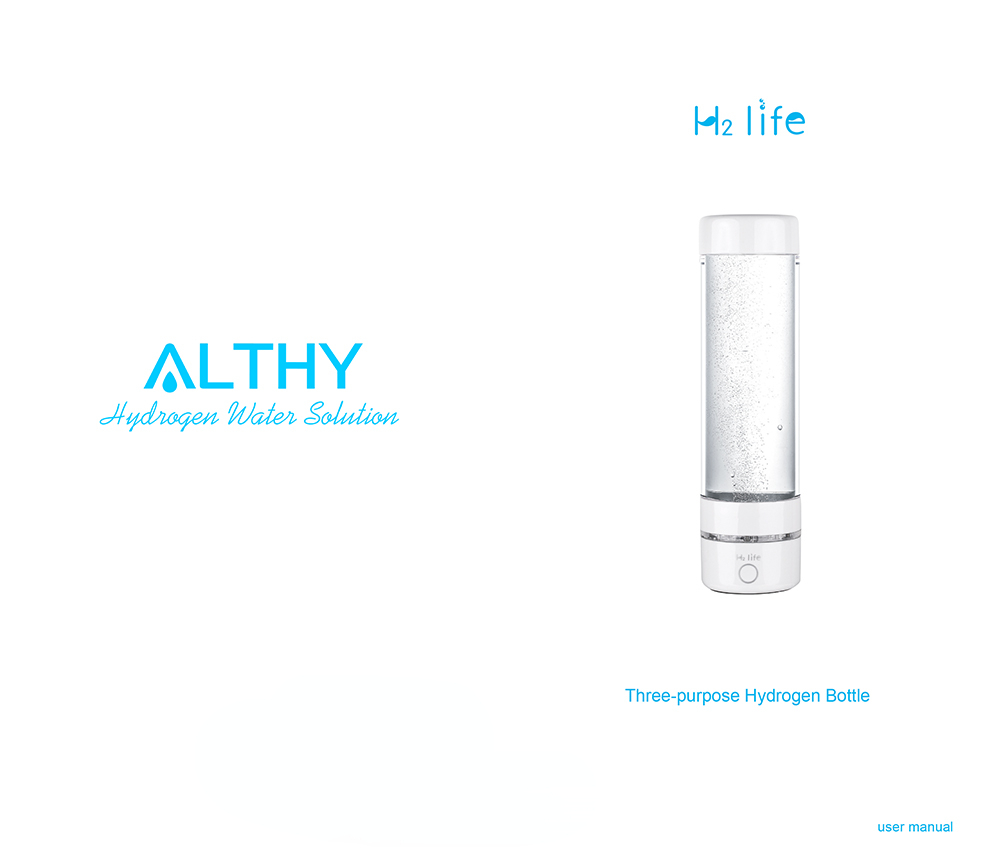 Share
View full details